Our School Ready Kindergarten
Our happy, lively Kindergarten Program is approved by Department of Education and Child Development and the Universal Access Program. Our Team Leader is Nicole, and our experienced Early Childhood teachers Kristy and Bethany, deliver the program. Our Educational Programs were judged as exceeding the National Quality Standard at our last assessment.
For children who are in the last year before school, we additionally focus on School Ready skills.  We assist the children to develop the skills, dispositions, social and emotional attributes which contribute to a successful transition to school. Studies have shown that children who possess these skills, have an easier transition to school, and are more likely to achieve long term academic success, and have positive social interactions at school. We co-ordinate with local primary schools, and the feedback we have received from the Reception teachers is that our children are "more than ready for school".
Our curriculum covers a wide range of ar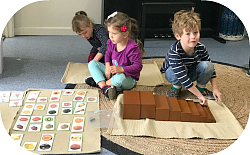 eas including – literacy, maths, science, physical skills, art and creativity, music and movement, social and emotional development. We aim to promote well-being, self-help, collaboration, and independence.
We value each child as a unique individual, and encourage their curiosity. Child
ren develop a range of skills and processes such as problem solving, inquiry, experimentation, hypothesising, researching and investigating. Children try new challenges, make new discoveries, and happily celebrate their own efforts and achievements and those of others.
They bring their diverse experiences, perspectives, expectations, knowledge and skills to their learning. Educators help to develop children's social skills by building trusting, responsive caring relationships with each child. Children develop  a sense of belonging, and self-esteem necessary for them to make meaningful connections with other children and adults.
The curriculum offers a unique mix of educational philosophies and methods including a Montessori Program  which is integrated into the daily activities. Montessori materials  lead to learning of abstract ideas through the correct use of concrete materials. When using the sensorial material, children are guided with  sequential learnin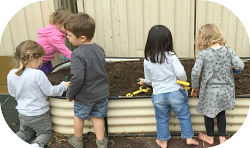 g experiences.  Self help skills promote independence and self esteem.  In our Kindergarten, children have fun, busy and varied learning experiences. Read Curriculum Page for more details.
Excursions to various locations of interest are part of the program. We also have visits from various community people such as the Fire Brigade, Dentist, and farm animals.
Parents are encouraged to communicate regularly with the Educators. We appreciate feedback and comments about our program and activities. All children are carefully observed, and activities are planned for them which follow interest shown. We send regular photos and learning stories through the Parent Portal to keep parents informed. We have Parent interview nights, and you can arrange an appointment to speak to the educators at other times.
Save
Save
Save
Save
Save
Save
Save
Save
Save
Save
Save