Qualified and Caring Educators
Our Educators are selected carefully, to ensure they are capable of delivering the highest quality care and education to your children, in a happy, safe, fun and stimulating environment. Our chosen Educators are committed to creating the Friendliest atmosphere for our families and our children. They also believe in our philosophy of achieving the best possible developmental and learning outcomes for every child in our care. Educators see children as competent, curious, creative and capable, and they provide optimal programs, learning environments and activities for the children. Our Educators care for each child holistically, and work with the children individually, or in groups to ensure they have the best possible outcomes.
We employ a higher ratio than required of qualified Educators. All employed Educators are required to either hold qualifications in Children's Services, or be actively studying towards obtaining a Diploma or Certificate 3. We employ three Registered Early Childhood Teachers, one of whom has Advanced Montessori training.
All Educators must undergo a Police Check before commencing work. They must also hold a First Aid Certificate, and a Child Safe Environments Certificate (Mandatory Reporting). These have to be updated every three years. All Educators are also required to undergo annual Asthma and Anaphylaxis Management, and Fire Safety Training.
All Educators have a Professional Development Plan, which requires them to attend additional workshops or Conferences to further their knowledge and skills for working with young children. As required, they also will gain knowledge in working with children with additional health, physical or educational needs.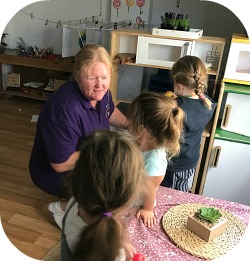 We follow the Nationally approved Early Years Learning Framework as a basis for our intentional teaching, observations and programming. The Framework conveys the highest expectations for all children's learning from birth to five years and through the transitions to school. It communicates these expectations through the following Learning Outcomes:
• Children have a strong sense of identity
• Children are connected with and contribute to their world
• Children have a strong sense of well-being
• Children are confident and involved learners
• Children are effective communicators.
The program for each room is based on careful observation of each individual child, and takes into account their interests and strengths. It is carefully balanced to cover all areas of the curriculum, and to achieve optimal educational and developmental outcomes for each child. We focus on developing self help, self confidence, independence, communications, social interactions, and well-being for all ages.
The curriculum for the children in the Pre-Kindy and Kindy rooms is enhanced with the Montessori program.  Our big emphasis in the Kindy room is developing school readiness. Feedback from the schools is that our Kindy children are more than ready to begin school. Families are informed of their children's progress – verbally when dropping off, or picking up, and through the parent portal on line daily.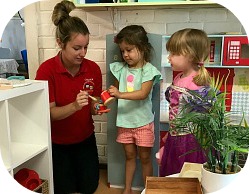 Save
Save
Save
Save
Save
Save
Save
Save
Save